Barberry as a delicious and healthy ingredient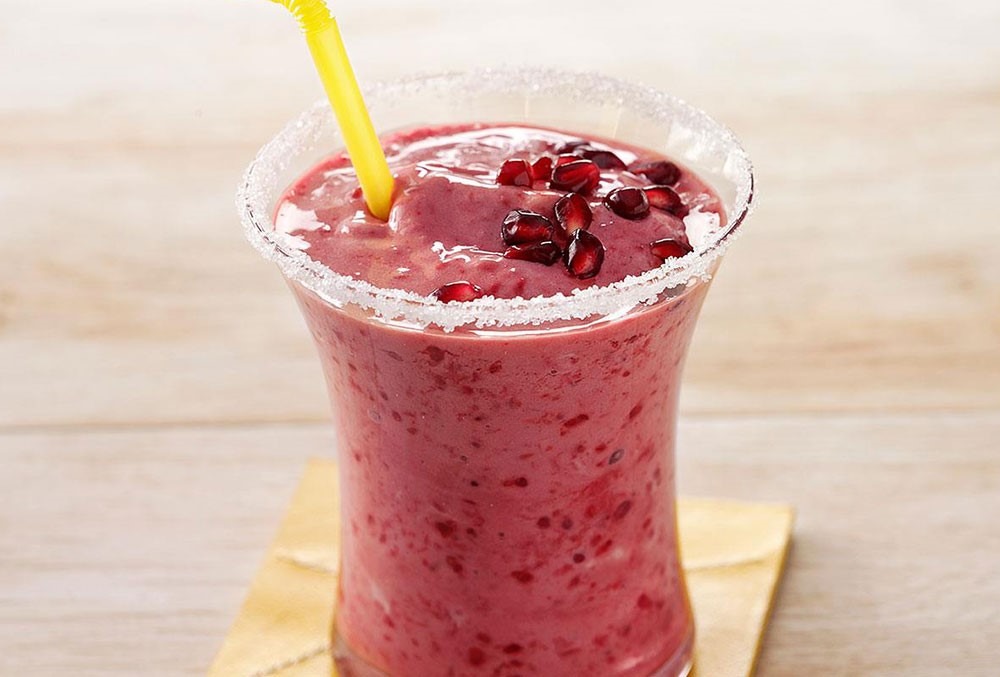 Barberry Smoothie
Ingredients
3/4 cup Light Barberry Juice Drink, you can make this by soaking ¼ of a cup of barberry in a cup of water for one night.
3/4 cup frozen mixed berries (strawberries, raspberries, blackberries, and barberry)
1 6-ounce container low fat berry-flavored yogurt
1/2 banana, cut into slices
How to make it:

Combine all ingredients in a blender.
Blend until ingredients are thoroughly combined.
Pour the liquid into a large glass.
Makes for approximately 2 servings.
Per serving: Calories 160, Calories from Fat 10, Total Fat 1g (2% DV), Saturated Fat 0.5g (2% DV), Trans Fat 0g, Cholesterol < 5mg (1% DV), Sodium 60mg (2% DV), Carbohydrates 35g (12% DV), Dietary Fiber 4g (16% DV), Sugars 27g, Protein 4g, Vitamin A 2%, Vitamin C 6%, Calcium 15%, Iron 4%.
Barberry Juice

Ingredients
250 grams dried Barberry
6-8 cup of cold water
2gram Stevia for sweetener
How to Make It
mix the barberry with 6 to 8 cup of cold water and let it sit for 24 hours in the fridge put the whole liquid in the blender and mixed it all.
remove the pulp from the juice using a fine sieve and add stevia for sweetener.
keep the juice in the fridge.
REFRESHING DRINK WHICH ALSO CLEANSES YOUR DIGESTIVE TRACTS
Barberry Rice
Ingredients
3 cups basmati rice
7 tablespoons kosher salt, divided
1/4 teaspoon saffron, ground with a mortar and pestle or in an electric spice grinder
3 tablespoons Greek yogurt
8 tablespoons melted unsalted butter, divided, plus more as needed
1 cup dried barberries*
2 teaspoons sugar
How to Make
Step 1
Put rice in a large bowl of cold water. Swish with your hands to release starch, then drain. Repeat until water runs clear. In a medium bowl, dissolve 3 tbsp. kosher salt in 2 cups of cold water. Add rice and let it soak for at least 1 hour and up to 8 hours.
Step 2
While rice is soaking, microwave 2 tbsp of water until hot (not boiling). Add ground saffron; set aside to steep.
Step 3
Fill a pot with 3 qts of water and 1/4 cup salt and bring to a boil, cover the pot. Drain rice and add to the pot. Stir once gently. Bring back to a gentle (not rolling) boil, uncover the pot, and cook rice, skimming off any foam, until softened but still with a bite to it, 4 to 6 minutes. Drain rice in a colander and rinse quickly under lukewarm water. Let it sit in colander till fully drained.
Step 4
Put yogurt in a medium bowl, add 1/4 tsp of saffron water, and stir to mix. Stir in 3 cups drained rice and set aside. Heat another 2 tbsp of water until hot (not boiling). Add 2 tbsp of melted butter; set aside.
Step 5
Set a 10- to 11-in.a wide dutch oven with a tight-fitting lid over medium heat. Add 3 tbsp of melted butter, swirl it around to cover the bottom of the pot and the sides by 1 inch. With the back of a large spoon, spread rice-yogurt mixture evenly across the bottom of the pot. This will be the tahdig (crispy rice) layer. Spoon in remaining rice to form a cone, with rice at sides of pot only 1/2 inch. deep over tahdig layer. Using handle of a wooden spoon, poke several holes in rice cone (DON'T disturb the tahdig layer) so steam can escape. Drizzle butter-hot water mixture over rice.
Step 6
Set pot lid on a large clean kitchen towel, fold edges of towel up over lid, and cover pot with lid. Cook over medium heat (to set the tahdig) until steam starts to escape from beneath lid, 10 to 12 minutes.
Step 7
Turn heat as low as possible and cook rice, rotating pot a few times for even cooking, until rice is tender and our beloved tahdig is golden and crispy (check it by lifting with a rubber spatula), 50 to 60 minutes.
Step 8
In the meantime, soak barberries: Sort through berries, pick out any stems and small stones. Put in a small bowl, add 2 cups of cold water, and soak for 15 minutes to rehydrate. Drain.
Step 9
Heat 1 tbsp of melted butter in a small pan over medium-low heat. Add barberries and 1 tsp. reserved saffron water. Cook, stir for 2 minutes to just warm through. Stir in sugar; remove from heat.
Step 10
Microwave 1 more tbsp. of water until it's hot not boiling. Pour into a medium bowl. Add the remaining 2 tbsp of melted butter and the remaining 1 tbsp of saffron water. When rice is ready, add 1 cup of rice and 1/3 cup of barberries, toss, and set aside.
Step 11
Gently spoon about 1 cup cooked rice from pot (DON'T disturb the tahdig) and arrange on a platter. Scatter 2 tbsp of berries and a quarter of Saffron Chicken (including onions) on top. Repeat with the same amounts of rice, berries, and chicken to form three more layers. Top with saffron rice and barberries. Using a rubber spatula, gently lift out tahdig, break it into pieces, and place around edges of rice.
Enjoy this traditional Iranian dish (with Iranian barberry from the best source