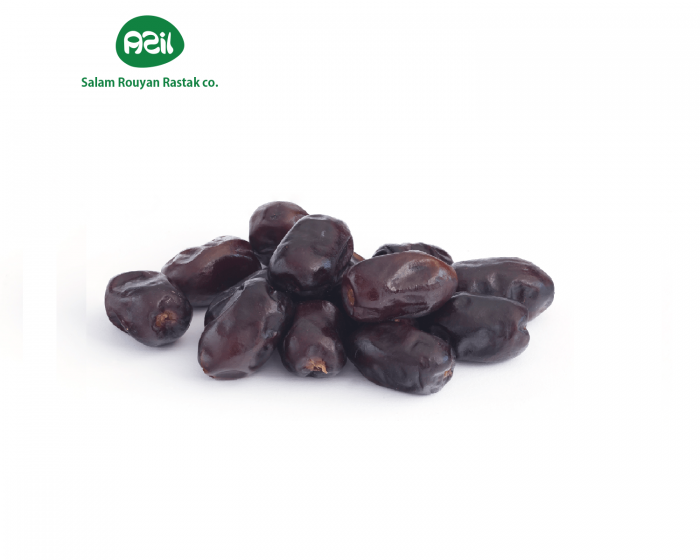 Azil Organic Mazafati Dates
Dry, Sweet and Free-flowing
Type : Organic & Conventional
Azil Organic Mazafati Dates
Mazafati dates are one of the oldest cultivated fruits in Iran. Different types of dates are Kharg Dates, Piarom Dates, Mazafati Dates,Zahedi dates ,Kabkab dates,Kalute Dates, Shahabi dates,Shahani dates, Sayer Dates,that vary in terms of sugar content.
The colors of dates are red before being ripe and while becoming ripe, their color become Black. Dates can be used in both fresh and dried kind. The fresh dates are soft and dried ones gets a little stiffer and have less moisture.
The amount of carbohydrates, calcium and iron in dried dates are more than fresh dates, although fresh dates have the higher amount of vitamin C.
Packaging Information
| | |
| --- | --- |
| Harvest Period : | September |
| Harvest Method : | Manual |
| Packaging : | Plastic bag in Cartons |
| Bulks ( Each carton ) : | 5 kgr |
| Retails | 600 gr |
| Number of boxes per Cartons : | 12 |
| Number of Cartons per Pallets : | 132 |
Some health professionals say eating one date per day is good and necessary for health.
Properties and Benefits of the Mazafati Date of Iran, Bam for face skin:
Flavonoids can be useful for preventing and treating skin problems such as acne and its scars, dates are also a source of antioxidants that can prevent premature aging and wrinkles on the skin.
Dates also help improve wounds and skin damages.
Properties and Benefits of the Mazafati Date of Iran, Bam for hair
Dates contain some vitamins, especially vitamin B5 that is essential to have healthy hair, deficiency of this vitamin can cause problems such as hair loss and dry and fragile hair.
Scalp and hair massage with palm kernel oil increases hair growth.
Reference: Azil Organic