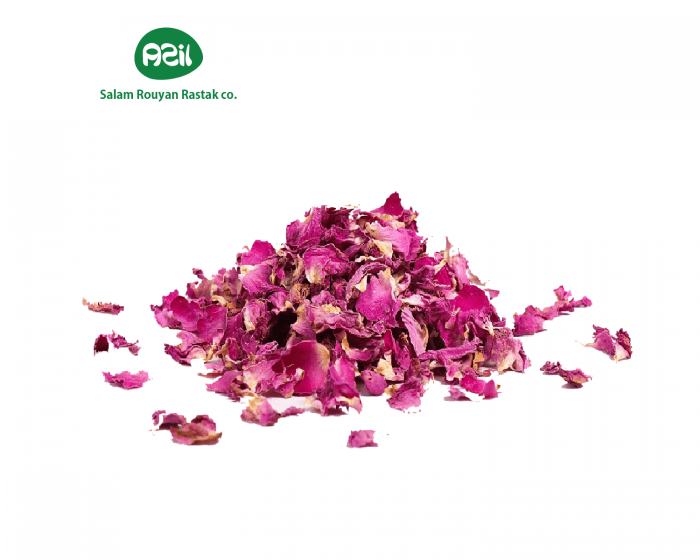 Azil Organic Rose Petals
Botanical name : Rosa Damascena Mill.
The legendary rose of Iran and its exquisite fragrance have been admired for millennia.
There is a lot more to Rosa Damascena than just a beautiful flower!
Used as herbal teas, spice, air freshener.
They are laxative and tranquilizer.
They are also used as decoration on cakes and pastries. Also used in pharmaceutical and cosmetic industries.
Fresh flowers are used in producing distillate and essential oil.
Type : Organic & Conventional
Azil Organic Rose Petals
Who said a rose can only be used to woo your beloved?
Women have been using rose petals since centuries to soothe their mind and body.
In fact, it is said that ancient Greeks and Romans used rose petals to perfume their baths.
Here's looking at the beauty benefits of this fragrant flower and how you can include rose water,
rose oil and rose petals in your skin and hair care routine.
Packaging Information
| | |
| --- | --- |
| Harvest Method : | Manual |
| Harvest Period : | May |
| Packaging : | Plastic bags in cartons |
| Bulks ( Each Carton ) : | 4 kg |
| Number of cartons per pallets : | 40 |
| Retails: | 20 gr |
| Number of boxes per Cartons : | 24 |
| Number of Cartons per Pallets : | 72 |
Skin toner:
Rose water is considered to be a natural toner for your skin.
Once you return home from work, take a swab of cotton dipped in rose water and gently wipe your face in a circular motion.
This will help get rid of the dirt as well as makeup.
Soothes skin:
The natural oils found in roses help retain moisture in the skin.
This results in your skin feeling smooth and soft.
The sugars in rose petals especially benefit those with sensitive skin.
Acts as sunscreen:
A rich source of vitamin C, rose petals act as an excellent sunblock.
Make a lotion by mixing cucumber juice, glycerin and rose water and apply it on your skin before heading out in the sun.
Helps fight acne:
The anti-bacterial properties found in rose makes it amazing for fighting acne and breakouts.
Rose water can also help soothe irritated skin and reduce its redness.
It is also known to heal skin ailments like eczema and psoriasis.
Prevent dark circles:
Soak thin swabs of cotton in rose water and put them on your eyes to prevent dark circles.
Moodlifting properties:
In a bad mood or feel the stress?
Known as a powerful mood enhancer,
add rose petals to a warm bath will help you get rid of feelings of anxiety.
Apart from being a detox for your body, it will also help you sleep better.
Reference: Azil