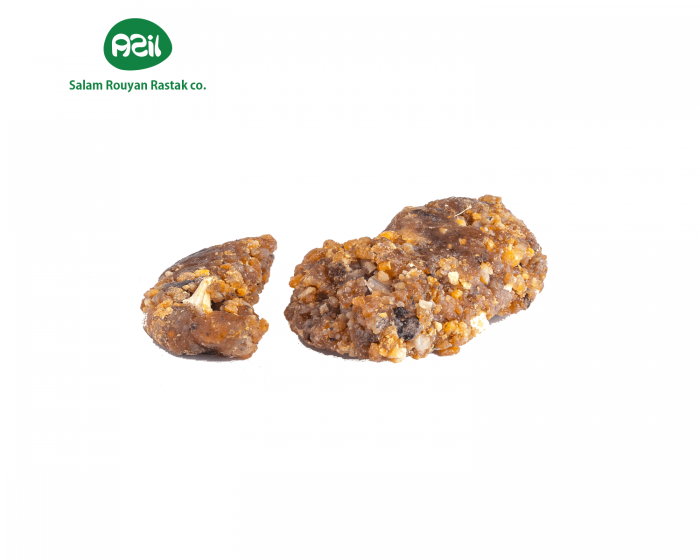 Azil Organic Galbanum Gum
Galbanum Gum (Ferula gummosa Boiss.) is extracted from all part of Ferula Alliacea Bioss, specially its initial root.

This oleo and aromatic gum is used in industrial and pharmaceutical products.
Azil Organic Galbanum Gum
Galbanum is an aromatic gum resin and a product of certain umbelliferous Persian plant species in the
genus Ferula, chiefly Ferula gummosa (synonym F. galbaniflua)
and Ferula rubricaulis.
Packaging Information
| | |
| --- | --- |
| Harvest period : | |
| Harvest method : | |
| Packaging : | |
| Bulks ( Each carton ) : | |
| Retails : | |
| Number of boxes per cartons : | |
| Number of cartons per pallets : | |
Galbanum-yielding plants grow plentifully on the slopes of the mountain ranges of northern Iran.
It occurs usually in hard or soft, irregular, more or less translucent and shining lumps,
or occasionally in separate tears, of a light-brown,
yellowish or greenish-yellow colour, and has a disagreeable, bitter taste, a peculiar, somewhat musky odour,
an intense green scent, and a specific gravity of 1.212.
It contains about 8% terpenes; about 65% of a resin which contains sulfur; about 20% gum;
and a very small quantity of the colorless crystalline substance umbelliferone.
It also contains α-pinene, β-pinene, limonene, cadinene, 3-carene, and ocimene
Galbanum is a gum-like material (resin) from the roots and trunk of a tree.
It is used to make medicine.
People take galbanum for digestion problems,
intestinal gas (flatulence), poor appetite, cough, and spasms.
Galbanum is sometimes applied directly to the skin for wounds.
In food and beverages, galbanum oil and resin are used as flavoring.
In manufacturing, galbanum oil and resin are used as fragrance in cosmetics.
Reference: Azil Organic