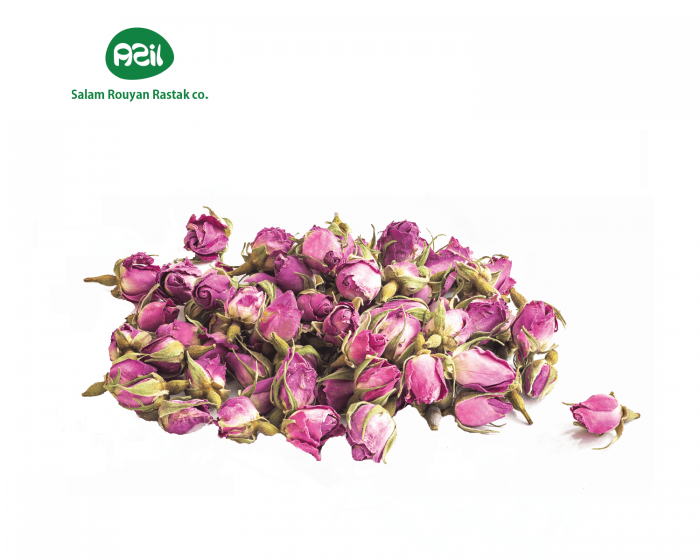 Azil Organic Rose Buds
Botanical name : Rosa Damascena Mill.
The legendary rose of Iran and its exquisite fragrance have been admired for millennia.
There is a lot more to Rosa Damascena than just a beautiful flower!
Used as herbal teas, spice, air freshener.
They are laxative and tranquilizer.
They are also used as decoration on cakes and pastries. Also used in pharmaceutical and cosmetic industries.
Fresh flowers are used in producing distillate and essential oil
Type : Organic & Conventional
Azil Organic Rose Buds
An aromatic herbal tea with a natural rosy aroma.
Made from 100% organic rosebuds and naturally dried to retain all the healthy nutritious.
A soothing cup for a relaxing evening or after a yoga session. Caffeine free.
Our rose buds are naturally grown in a pollution free environment and you'll find that they're still in whole pieces due to manual hand processing and careful drying. The tisane of Rose Buds, consists a very pleasant odor and taste of natural rose flowers which makes it needless of any artificial coloring or flavoring.
Packaging Information
| | |
| --- | --- |
| Harvest Method : | Manual |
| Harvest Period : | May |
| Packaging : | Plastic bags in Cartons |
| Bulks ( Each Carton ): | 8 kgr |
| Number of Cartons per Pallets : | 40 |
| Retails : | 40 gr |
| Number of boxes per Cartons : | 24 |
| Number of Cartons per Pallets : | 72 |
Rose flowers, especially buds, contain a high concentration of vitamin C which by far surpasses the levels in fresh fruits like orange, tomato, and grapefruit.
This makes it a great herbal tea for the immune system
and to fight off colds and flu in a more natural way.
Health benefits of loose rose bud tea also include its ability to clear toxic waste from the bladder and kidneys and therefore reduces the risk of urinary tract infections.
Drinking rose tea can also prevent blockages that can be caused by kidney stones.
In addition, our pink rose tea contains rich nutrients and organic acids with help to prevent digestive problems and eliminate the toxic waste and substances that can build up in the intestines.
Drinking dried rosebud tea helps reduce the risk of dysentery, diarrhea, gastroenteritis and constipation.
Finally, drinking rose flower herbal tea is a great way to relax after a busy day at office,
as it can calm the central nervous system, reducing the chance of depression and anxiety.
Dried rose tea can also benefit victims of chronic fatigue,
insomnia and nervousness when drinking one or two cups per day.
Overview rose buds
Due to the high demands of people for the Organic rose buds ,It becomes increasingly difficult to source over the years, and narrowed the availability of this product.
While we strive to consistently bring you the best quality rose buds,
variations in appearance can occur between lots.
Rose buds can fluctuate from tightly closed buds to loosely-closed.
The rose has been valued for its beauty and its perfume for thousands of years.
Because rose oil deteriorates rapidly with exposure to sun and wind, the content is highest on the first morning when the flower opens.
Rose picked for distillation are picked manually, day by day, at or just before sunrise.
Refrence : Azil Organic