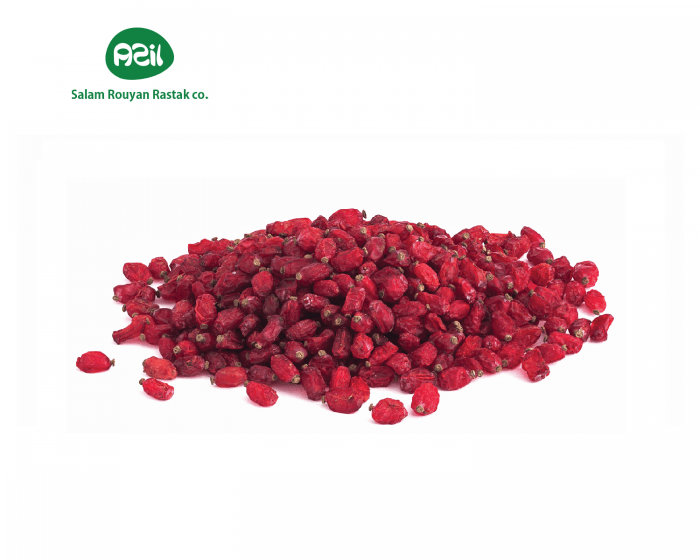 Azil Organic Barberry
Botanical name : Berberis Vulgaris L.
These little red jewels are incredibly useful!
Barbery is used in making different kinds of foods and salads which add extraordinary color and sour taste.
To quickly release their delicious flavor, a little light soaking and frying is all that's needed to plump them up!
Type : Organic & Conventional
Azil Organic Barberry
Berberis vulgaris, commonly known as barberry, is a shrub that grows tart, red berries.
While the plant is not native to European countries , it can now be found all over the world.
Its berries have been used in traditional medicine for centuries to treat digestive issues, infections, and skin conditions.
Packaging Information barberry
| | |
| --- | --- |
| Harvest Period : | November |
| Harvest method : | Manual |
| Packaging : | Food grade papers in 7 kg cardboard cartons |
| Bulks ( Each catron ) : | 7 kg |
| Retails : | 150 gr |
| Number of boxes per cartons : | 12 |
| Number of Cartons per pallets : | 132 |
They contain several beneficial compounds, most notably berberine,
which acts as an antioxidant and may help manage conditions like diabetes,
fight dental infections, and treat acne
Barberries are highly nutritious.
They are rich in carbs, fiber, and several vitamins and minerals.
In particular, the berries are an excellent source of vitamin C,
an antioxidant that may help protect against cellular damage, which can lead to heart disease and cancer.
A 1/4-cup (28-gram) serving of dried barberry contains:
Calories: 89
Protein: 1 gram
Fat: 1 gram
Carbs: 18 grams
Fiber: 3 grams
Vitamin C: 213% of the Daily Value (DV)
Iron: 15% of the DV
In addition, barberries contain zinc, manganese, and copper,
all of which are trace minerals that play significant roles in immunity and disease prevention.
The bright red color of the berries comes from anthocyanins,
which are plant pigments that may boost your brain and heart health, among other benefits.
Reference: Azil